5 ways to survive winter like they do in the Nordics
There are 5 surefire and proven ways to survive winter as they do it in the Nordics.
It's long, dark and cold. Sunshine is rare. More often than not they have clouds, rain and snow. All kinds of snow since the Nordic languages have more than enough words for snow.
It's winter in the Nordics but its people are OK with it. They can cope. They may struggle but they also enjoy it.
Perhaps it's their mindset or they have adapted to it as humans do in extraordinary conditions.
Or is it that they of all people found a way to be happy even in winter? Despite the cold, darkness and isolation?
The Nordic people are said (and verified) to be among the happiest (if not the happiest) people on the planet. It's no wonder they discovered how to make the most out of their harsh winter days and have fun.
Be it indoors or outdoors, they know how to do it. A famous quote claims that "there is no bad weather, only bad clothes".
Most probably it's right. People adapt and adopt new approaches to survive and thrive. The same applies to people from the Nordics.
If there is only one thing to remember after reading this article, it must be this: take it easy & enjoy it!
Here are 5 ways the Nordic people cope with winter. Make something warm, get cosy and read on!
1. Friluftsliv or living in the open air
This is a very popular concept in the Nordics and it's basically about having fun outdoors, winter or summer.
It's surprising (or eventually not) that the Nordic people somehow expect winter every year. It's their time of the year when they feel at home the most.
Winter has been engrained into their DNA for ages now. So, when November comes and the first snow appears it's time for outdoor activities.
From skiing to winter hikes, they looove to be outside, be it rain, sleet or snow.
It's their connection with nature that makes it feel so natural.
The Norwegians are considered to be the more sporty ones. A local quote claims that "the Norwegians are born with skis on their feet"!
It may sound funny but it's true as everyone goes out in the winter. From kids to elderly people. And parents are not afraid to take their offspring for a walk in the cold air (or even let babies sleep in their carriage, out in the cold), to play outside in the snow or go on an excursion.
Let's not forget that there are also cabins EVERYWHERE in the Nordics. It's their sacred/secret place where they become one with nature, enjoy winter and have fun together.
So, next time you complain about winter, there's a better alternative: embrace it & enjoy it!
2. Good sleeping patterns
You'd think that the Nordic people are like bears. Hibernating in the winter and living their best life in summer, right? Well, this is only partially true.
Even in winter, they live (or at least try to live) as normal as possible and sleep plays a very important role.
During the Nordic winter, there are only a few hours of daylight, during which it's also mostly dark and grey (because of the weather).
They have learned to appreciate it though so this is why you may see a lot of people around when it's still day, even in December or January, the darkest months.
People have come to appreciate even the little daylight they are served and make the most out of it. A morning walk before work or an afternoon hike after work. Many also leave work early to catch some daylight.
Sleep is their next task. Although it's dark, it doesn't mean they sleep all the time. They prefer to spend time indoors and enjoy their local version of happiness: hygge, kos, mys etc.
Maintaining a normal sleeping rhythm throughout the year is essential for good health and mood.
It's the same (rather opposite) during the long summer days where there is sun until very late at night or even no darkness all day round. It doesn't mean they sleep late or not at all, although you may find someone working in their garden under the midnight sun.
For the record, the Finns sleep almost the most in the world. According to data from the World Economic Forum, Finland is only 2nd in the world (behind New Zealand) in the hours its people sleep (more than 7 hours and 35 minutes on average).
The other Nordic countries score high as well, with Sweden, Iceland and Norway enjoying a Top-20 spot among the world's heaviest sleepers.
3. A lot of light
The Nordic people love light. In winter, they use a lot of light in their homes and offices. It brightens their days and looong nights.
It's not that they are not environmentally conscious and energy saving. It's just that they need this extra artificial light indoors so they can survive the dark winter.
Contrary to what other people and cultures are used to doing, the Nordic people like ample light but in small quantities. Is that possible? Sure!
Instead of turning on the big lights all around the house, they prefer smaller lamps scattered around the house creating small hubs of light.
That makes it super cosy and more environmentally friendly.
What can one say about Nordic design, huh? Lamps are included in their amazing minimalistic Nordic design and aesthetics. Scandinavian lighting tradition consists of several table lamps and floor lamps and fewer pendant lamps.
The Danes are famous designers, Swedes too (IKEA included). There is even a sort of "national" lamp for the Danes, that is Poul Henningsen's multi-layered lamp, from the 1920s. We are sure you recognize it, right?
In addition, candles do the work as well. And people in the Nordics love them. Especially the Danes who are among the top candle consuming countries in the world. They are part of the hygge concept, who can argue about that?
Finally, when it comes to light in the Nordics, the Northern Lights (Aurora Borealis) are worth the mention, too. During the dark winter, they are always there to amaze and guide people from all over the world.
Do you know how they call it in Finland? Revontulet that translates to fox fires. Also in Finland, people once thought the Northern Lights were the spouts that whales in the sea sprayed into the night. Fascinating!
4. Winter fashion
You now know, there is no bad weather, only bad clothes. This is the underlying concept behind winter fashion in the Nordics.
Cold stays for a looong time. Nordic people just embrace it and do their best with their clothes.
Perhaps the most popular approach is layered clothing. Instead of wearing one very heavy and warm sweater and a coat, opt for multiple lighter layers of clothes.
Yes, they can start with a T-shirt inside, a light sweater and a jacket on top of it, then a winter jacket or coat. Who wants to sweat underneath when they get from the cold outside into a warm indoor place with heating?
Dressing in winter layers is the solution. However, everybody from the outside world (i.e. outside the Nordics) still wonders about and tries to find a decent explanation of how they all manage to look so neat and cool (pun intended) with all these layers of clothes.
Scarves are also an important part of Nordic winter fashion. The bigger and fluffier the better. For both women and men.
Whereas a thick, long, fluffy scarf is considered feminine (God forbid in our days!) in some countries, it's considered a must in the Nordics.
There has even been a relevant pun around: the bigger the scarf, the fewer taxes the government will take from you. Of course, it's not true but it demonstrates how essential scarves are during the winter in the European north.
Did you know that some of the best sweaters in the world are made in Iceland and the Faroe Islands? They are made of 100% pure local wool that makes them super warm, yet breathing (bye bye sweat) and water repellent (rain stays out).
Just like the ones Sarah Lund (also known as Sofie Gråbøl) in the Nordic noir series "The killing" wore.
5. Cosy time & togetherness
Last but not least, we need to mention the cosiness and togetherness.
This is perhaps the best way the Nordic people manage to cope with winter.
They might say that people from the Nordics are cold, unfriendly, less social and extroverted than people from other countries. We'd say it's more their culture that is more introverted that makes them look like that.
Because they are exactly the opposite. They may hate small talk and talking to strangers BUT when it comes to their folks (friends and family) they become super social.
They love to spend time together at home. It's their moment of happiness in the winter. In Denmark, they call it hygge. In Norway (which claims to have invented the word "hygge" in the first place) they call it kos. Mys in Swedish.
Regardless of the local version of cosy time together with their folks, the ingredients are the same: low light, good food, wine or warm drinks (alcohol is generally appreciated), sweets, candles.
But above all it's about togetherness: talking, laughing, remembering old stories, playing games or [you name it, whatever you find cosy and social].
Fridays are a special occasion in the Nordics and perhaps the perfect time for cosiness: in Norway and Sweden, they have a specific ritual to enjoy the Friday evenings together, after a hectic week is over.
The Norwegians call it fredagskos (Friday cosiness) and is usually a taco night (surprisingly, tacos may be now considered the new national food). Their neighbours to the East, Swedes, call it fredagsmys and consists of watching Tv together with family or friends, with pizza, chips and sweets. Fancy!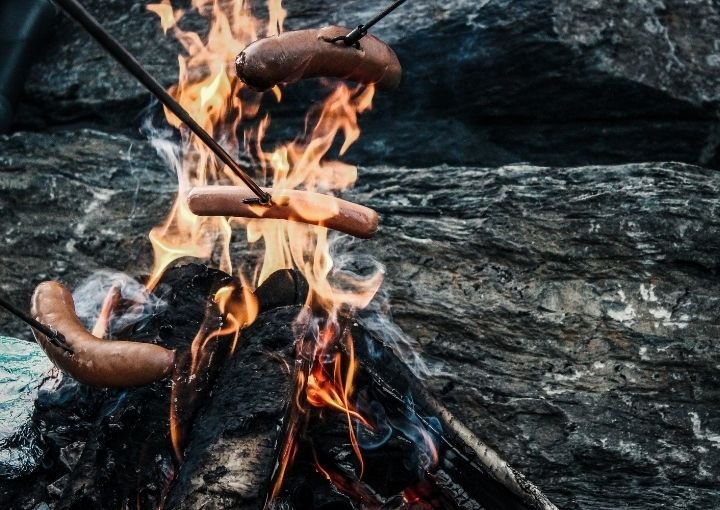 Bonfires are also popular during winter. They can serve as a place to gather around and talk, baking marshmallows or sausages, or even cooking soup or boiling water for coffee. Fire can warm the heart and soul, right?
Speaking of drinks, coffee is very very popular in the Nordics, with every nordic nation competing for the top spot in the global coffee consuming list. Finland has been the world leader by far for some time now.
There is a whole kahvi (coffee in Finnish) culture there and no one seems to be able to steal their top spot.
Coffee without sweets is half the joy. Cinnamon rolls (or kanelbullar in Swedish) are one option. Finnish pulla is another option. The Danes love their "royal" Danish butter cookies as well as tasty creamy wienerbrød (actually translating to Viennese bread!).
From Christmas until Easter, semlor are also popular in Sweden and there is a whole industry around them.
~~~
Come winter or summer, what matters the most is to enjoy the moment. And the Nordic people surely know how to do it!